Kindergarten crafts : รวมกิจกรรม ศิลปะเด็กอนุบาล
Kids Summer Crafts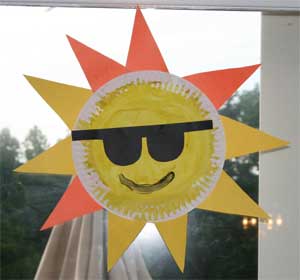 Have fun making this paper plate sun craft which is a great summer craft for kids. With a paper plate, some paint and some construction paper, children can have some fun making this cool summertime sun!
---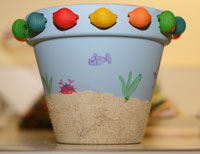 This is a fun summer craft that you can do with your children. Make this ocean flower pot with a basic pot, some paint, seashells (or dyed pasta) and some sand from the beach!
---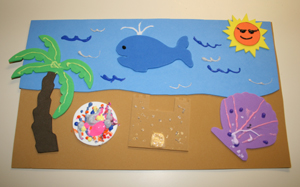 Have fun cutting out and putting together this cool beach scene craft. The pieces are made from craft foam and you can use our printable template to cut out all the pieces. Then kids can put the pieces together and add some creative finishing touches.
---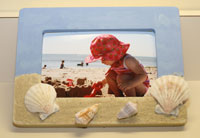 This beach picture frame is a fun summer craft that makes a great keepsake. All you need is a basic wooden frame to start with and then some paint and some sand from the beach if you have it.
---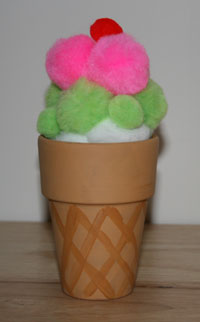 Check out this fun and simple kids summer craft. All kids like ice cream cones and this kids craft is sure to be a hit! Just use a small pot, some paint, glue and pom-poms to fill in the cone.
---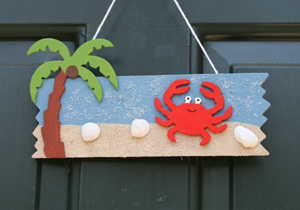 This beach door hanger makes a great kids summer craft for slightly older children. They will love painting the individual pieces and adding the cool touches of glitter and sand to this unique craft.
---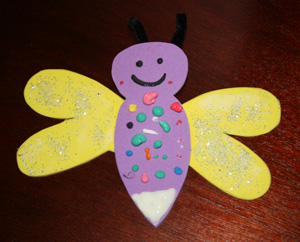 This glow in the dark lightning bug craft is a hit with kids. Kids can use their creativity when decorating it and then take it into a dark room and watch is glow when you are done!
---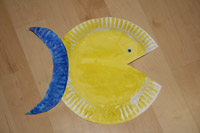 If you want a nice easy summer craft that you can do with very young children, this paper plate fish is a great one. Our 2 year old daughter had a fun time painting this one and helping us put it together. Slightly older kids can do the cutting and gluing as well.
---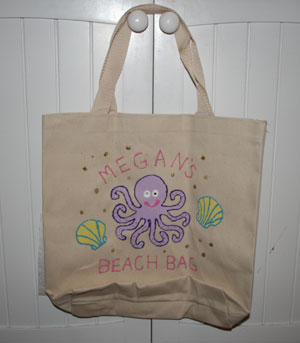 Try out this fun craft with your kids during summer time and end up with a very useful beach bag. Children will enjoy this summer craft and it works with a variety of age groups. The younger the kids, the more "abstract" the final result may be, but all kids seem to like this one during summer.
---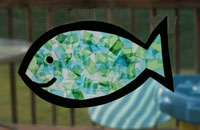 We really liked this fish craft and it was perfect for summertime. The contact paper is the key to making this craft "toddler friendly" - no messy glue to contend with and it"s easy for them to add the tissue paper all by themselves. The tissue paper makes the craft fun for small kids and the project has a great stained glass effect in the sunlight.
---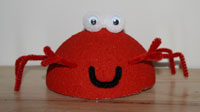 This styrofoam crab craft is a great summer project and decoration that you can make with your kids. Transform styrofoam balls, pipe cleaners and paint into an incredibly cute crab! This project uses materials with great textures and encourages your children to be creative and use materials in different ways. Enjoy!
ผู้ตั้งกระทู้
Admin
:: วันที่ลงประกาศ 2009-09-24 17:16:22
IP
: 124.120.110.109
ความคิดเห็นที่ 1 (1987610)

Kids Fall Crafts

We"ve always loved seeing scarecrow decorations in the fall, and we wanted a simple version that we could do in our own home with our toddler. What we came up with is this incredibly cute paper bag scarecrow craft. We"ve included a template to make it that much more user friendly. This scarecrow makes a great homemade fall decoration, and with a little prep work, even your toddler can make one!

---

Check out this fun toddler pumpkin craft that kids will enjoy during fall. Children get to paint the pumpkin seeds and them glue them to our pumpkin template to make a pumpkin. We found this our daughter had a great time with this fall craft.

---

Make this simple and beautiful fall leaf craft out of different colored tissue paper. Using contact paper instead of glue makes this a great fall craft even for young toddlers and you can put up in a window and it makes a great suncatcher when you are done.

---

Make this fun indian corn craft with your kids during the fall season using our printable template and some buttons. This is a great fall preschool craft and you can hang on your door or window to make a great homemade fall decoration.

---

Turn construction paper and a toilet paper roll into a cool homemade decoration for fall. This paper strip pumpkin craft is a neat fall craft for kids and makes a nice fall decoration when you are finished.

---

Make your own chalkboard with a fall theme. Fall means back to school, apple picking and colorful fall leaves. This fun fall craft combines all of these things into one cute homemade fall craft for kids.

---

This cinnamon apple wreath is a fantastic preschool craft for fall. Kids love gluing the craft foam apples to the paper plate ring. The finishing touch is a cinnamon stick tied in the center which will give a nice scent!

---

Use our printable corn template and your child"s fingerprints to make this great fall preschool craft with your children. Kids will have fun dipping their fingers in the different colored paints and then using their fingerprints to make the corn.

---

Handprint crafts always make a great keepsake for parents and this is a fun one to do during fall. Our toddler daughter had fun making this one since she is also into trees. All you need is paint, glue and some construction paper for this simple kids fall craft.

---

This great apple print craft is a fun way to paint with your kids using all new materials - apples! We love to pick apples in the fall and always have a couple left over, so this fun fall craft is a great way to use them and to teach kids about apples and apple seeds! Enjoy!

---

Fall is such a great time to take pictures of your family outside and this apple frame makes a great way to display the fall fun or even your photos of the first day of school. Using an inexpensive unpainted frame and some some unpainted wood shapes, you and your kids can create a beautiful fall decoration.

---

This cute pumpkin picture frame makes a great fall craft for kids. It is a fun and simple craft and is a great way to show off some of your fun autumn pictures. Using some simple materials and techniques, this fall craft is a perfect one - even for young children to do.

---

Welcome your family and friends to your home this autumn with our great homemade fall door hanger craft! This craft is made with craft foam, glue and our easy to use template and it is a fantastic fall decoration.

---

This simple Columbus Day craft focuses on the three ships that saled way back in the day of Columbus (the Nina, the Pinta, and the Sant Maria) and kids get to cut out, color and place the ships in the ocean. This makes a great preschool or kindergarten craft.

---

Our fall fingerprint tree craft is a fantastic "handprint" craft for fall! This is a great fall decoration that you can bring out year after year to see how much your little one has grown. Our 23 month old daughter loved doing this craft and we hope your children will too!

---

Our tissue paper Indian corn craft is a great fall craft for preschoolers and toddlers. Fun materials, an easy template, and a lot of glue will help keep their interest, leaving you with a great homemade fall decoration when they are finished!

---

This is a fun toddler fall craft. Kids will enjoy dipping their fingers in the different fall leave colors and using their fingerprints to make the leaves on this fall tree.

---

Children will enjoy making this apple tree craft that uses a toilet paper roll as its base to it can stand up on its own when you are done. Kids can paint the top and then add the apples for some autumn time crafting fun!

---

Our paper squirrel craft is a great fall craft for young children. This cute squirrel is an easy craft to do on a cold or rainy afternoon when you are looking for a fun activity to do with the kids. All you need is our template, construction paper, scissors and glue and you have a fun fall craft and decoration!

---

Turn unpainted wooden frames and leaves into a fantastic homemade fall decoration and frame with our fall leaf picture frame craft. Red, orange, yellows and browns combined with a little gold glitter turn this into a great fall craft for kids!

---

ผู้แสดงความคิดเห็น

Admin

วันที่ตอบ 2009-09-24 17:19:50&nbsp

IP

: 124.120.110.109





ความคิดเห็นที่ 2 (1987612)

Spring Crafts for Kids

Our tissue paper rainbow is a fun spring craft for kids to make to welcome spring! This is an ideal toddler craft with a little bit of prep work, or a great craft for an older child to do from start to finish on their own.

---

This cute caterpillar craft is made from pom-poms, a popsicle stick and glue and makes an absolutely perfect spring craft for toddlers and preschoolers. Our 2 year old daughter wasn"t happy until we had made a whole family of these little guys and she had great fun making them crawl all over the table!

---

Make your own nest of hatching baby birds out of a paper plate, tissue paper and construction paper! We"ve included a template for the birds to make this great kids spring craft even easier to do.

---

Turn a few paper plates into a ladybug with our simple paper plate ladybug craft. This little bug makes a fantastic kids spring craft as well as a great decoration for your home to welcome spring.

---

If you"ve used our site in the past, you know we can"t resist a good handprint craft and this handprint butterfly craft is perfect for spring. This is a simple craft that can be adapted for many age ranges and abilities. We had fun making a butterfly for every member of the family, decorating them together and hanging them up as decorations. Enjoy!

---

Use some paint and unfinished wood pieces to turn a plain wooden frame into a great spring craft for kids. This spring picture frame is the perfect way to display your new spring photos of your children and makes a fantastic gift for family and friends!

---

Our paper inchworm is a great kids spring craft. All you need are a few paper strips, some scotch tape, googly eyes and pipe cleaners to make this very fun, simple kids craft.

---

The patterns on butterfly wings are symmetrical and kids love squishing around paint - put the two ideas together and you end up with our folding butterfly craft! Print and cut out our butterfly template, fold it in half and have your child paint a design - the goopier the better! Then just fold the unpainted side over the painted side and press together to create a perfectly symmetrical butterfly and a great spring craft for kids! Our daughter absolutely loved this one!

---

Groundhog, groundhog furry and brown, it"s time to pop up from the ground! This cute little craft is a great kids spring craft to make on Groundhog"s day. Just print out our groundhog template to make the craft and see if your groundhog see"s it"s shadow!

---

This tissue paper butterfly craft is an incredibly simple spring craft for kids to make, so we suggest making many of them in a lot of different colors to decorate your home!

---

Our flower magnets craft is a great spring kids craft. Use our template to make a whole bouquet of flowers for your children to decorate with sequins, their names, glitter, stickers and more. Attach magnets to the backs of their craft foam creations and you have a great homemade spring decoration to keep or to give as gifts!

---

Turn a soda bottle cap into the center of a spring daffodil in our foam daffodil craft! Daffodils are one of the first flowers to emerge after the winter frost and they"ve always been a personal favorite of ours. We"ve included a template for the flower to make this simple kids spring craft that much easier to put together.

---

Help your kids make a garden of flowers out of construction paper and cupcake wrappers! This is a fun craft using new materials for kids which helps to keep their attention and inspire their imaginations. Use wrappers of all different shapes and colors to make each garden unique. Have fun!

---

ผู้แสดงความคิดเห็น

Admin

วันที่ตอบ 2009-09-24 17:21:30&nbsp

IP

: 124.120.110.109





ความคิดเห็นที่ 3 (1987614)

Kids Winter Crafts

Our daughter loves penguins - she even dressed as a penguin for Halloween and waddled around the neighborhood! So this craft was created when she asked to make a penguin during craft time one weekend morning. We both love it because the body of the penguin is made by tracing her foot so I plan to keep making footprint penguins every year to watch how my own little penguin has grown!

---

Our styrofoam snowman craft is a cute craft that your children can be creative with. Our craft is a "basic" snowman, but encourage your children be creative with the snowman (or snowgirl"s) accessories. Add a purse, a crown, a baseball bat, or cowboy hat to your snowperson to personalize it to your children"s likes. It"s a great winter craft for kids to do - let each child make their own snowperson and display as winter decorations! Enjoy!

---

Have you ever sat inside during a snow storm and wondered how deep the snow really was outside your door? Have the kids guess at how deep it is and then measure it with our snow measuring stick! This stick is a great winter craft and will even get your kids talking about measurements! It is also a beautiful addition to your winter landscape!

---

This craft was created for our toddler daughter who loves her penguins (she calls them "p"s"). With a styrofoam body and a fun winter hat it"s a great winter craft. This craft is intricate enough to keep older children engaged, but can also be adapted with a bit of prep work for younger children as well. We hope your children will enjoy this winter craft as much as our daughter does!

---

The clay pot snowman craft is a great winter craft and decoration for your front porch. We made a scaled down version for inside the home, but using larger pots this craft would look fantastic sitting outside to welcome in your winter guests! Kids will love being able to use clay pots to make an original craft (and all the paint and googly eyes doesn"t hurt either!).

---

This cotton ball snowman craft is a great craft for your children to display their creativity. It is also a fantastic preschool craft. Kids love glue and this craft uses a lot of it! Help your child "draw" the three circles with the glue and fill them in with the cotton balls. Help them use their imagination to accessorize the snowman and to draw in the scenery. This project is a great learning tool for your kids as you can teach them about shapes and colors and encourage them to tell a story about the snowman in their finished winter craft.

---

Our paper plate snowman craft is a great winter craft for kids to do on a cold, snowy afternoon because it uses materials that you most likely already have on hand. Paper plates, construction paper, and glue make up the majority of the craft with a few extras to make it fun for your children like buttons and felt. This is a bigger finished project and looks great hanging on the front door as a homemade winter decoration.

---

ผู้แสดงความคิดเห็น

Admin

วันที่ตอบ 2009-09-24 17:23:38&nbsp

IP

: 124.120.110.109





ความคิดเห็นที่ 4 (1987620)

Animal Crafts

| | |
| --- | --- |
| | Check out our special section dedicated to fun fish crafts for kids. |
| | Dolphins, crabs, octopus and more. We have a bunch of ocean animal crafts for kids. |
| | Spiders, ladybugs, inchworms and more! Check out our selection of kids bug crafts. |
| | We have a really fun collection of dinosaur crafts for kids. Check out our shapes dinosaur, dinosaur sock puppet and much more! |
| | Check out this fun and simple giraffe craft that kids will love to make and then play with! |

ผู้แสดงความคิดเห็น

Admin

วันที่ตอบ 2009-09-24 17:38:15&nbsp

IP

: 124.120.110.109





ความคิดเห็นที่ 5 (1987621)

More Kids Craft

| | |
| --- | --- |
| | Kids will love our section of robot crafts! We have some simple, fun and creative robot crafts for kids. |
| | Check out our section dedicated to flower crafts of different shapes, sizes and materials. |
| | Check out our section dedicated to kids crafts made using paper plates. We have a variety to choose from! |
| | Oswald, Weenie, Henry, Daisy and more! Check out our Oswald crafts that include templates. |
| | Have fun putting together this kids clock craft and learn about time. |
| | This alphabet felt board craft makes a great learning activity for kids. |

ผู้แสดงความคิดเห็น

Admin

วันที่ตอบ 2009-09-24 17:39:19&nbsp

IP

: 124.120.110.109





ความคิดเห็นที่ 6 (1987622)

Kids Christmas Crafts

Our felt Christmas tree craft with removable ornaments is a fun Christmas craft for you to do with your kids. It has many uses, from being a reward chart to being a fun holiday decoration! We"ve used this tree to practice counting and color matching as well with our toddler daughter.

---

With paper plates, paint, lots of glue and cotton balls kids will love making our fun cotton ball Santa craft. This craft was created because we found that it can be hard to find a good Santa Claus craft that younger children can do. Our cotton ball Santa craft has a bunch of fun textures and makes a great exercise in following directions. Your children will love the end result and it makes a great homemade Christmas decoration or gift.

---

Our tissue paper wreath craft is a great craft to do with younger children. With lots of glue (enough to paint with a paintbrush!) and lots of crumpled tissue paper this is a simple craft that turns out great every time! It makes a fantastic homemade Christmas decoration for your home!

---

By stacking the foam stars you can create a perfect Christmas tree which makes a great homemade Christmas gift or decoration. This foam star Christmas tree craft is a great way to teach your kids to look at something familiar in a whole new way.

---

This handprint reindeer is one of our favorite Christmas crafts. Made from your child"s footprint and handprints it"s a great way to capture a memory of when your children are small. The handprint reindeer craft is easy enough for even very young children to do and makes a great homemade Christmas gift or even Christmas card for grandparents and family.

---

Our styrofoam Christmas tree craft is a lot of fun to do! It has a variety of new textures, materials, and techniques that are appealing to kids. Kids get to paint over styrofoam with glue, rip apart tissue paper, and play with glitter and in the end they will have created a beautiful craft that is even worthy of being given as a homemade Christmas gift!

---

This styrofoam Santa craft was created because we needed a new homemade Christmas decoration for our mantel! Coupled with the styrofoam reindeer craft it"s a fantastic decoration. With a styrofoam ball, felt, cotton balls, paint and glue your kids can make this great Christmas craft too!

---

With handprint antlers and a simple paper plate head our paper plate reindeer is a great craft to do on a cold winter afternoon with materials you most likely already have on hand. It is a cute, simple craft that is great for the younger set.

---

Our styrofoam reindeer craft is a fun craft for kids to do using some different materials like styrofoam and pipe cleaners which have great textures. The addition of a jingle bell collar makes this craft even cuter! When set next to the styrofoam Santa craft above, this craft makes a fantastic homemade Christmas decoration for your mantel.

---

Use our template to create a foam gingerbread man craft! We decorated our gingerbread man traditionally, but encourage your kids to use their imaginations and decorate their gingerbread man or woman however they would like! Add a hat, a skirt, or even shoes - anything to make it fun! This craft is very toddler friendly as well.

---

We are always looking for new ways to pass out our daughter"s photo at Christmas time. This fun idea was made from a wooden "tag" bought at a craft store, but we"ve included a template of the craft so that you can make it out of any material you"d like.

ผู้แสดงความคิดเห็น

Admin

วันที่ตอบ 2009-09-24 17:40:07&nbsp

IP

: 124.120.110.109





ความคิดเห็นที่ 7 (1987624)

Kids Father"s Day Crafts

Dad will love this special book from his child - it makes a great Father"s Day present any kid can do. This book allows kids to think about the stuff they love about their dad, and then color and practice writing. This book is an easy craft for kids, but is such a special gift for any dad. All you have to do is print the pages, cut them out and the kids fill in the rest.

---

Father"s Day Picture Frames

Does dad like football? Or is he more interested in baseball? Or would he rather just be fishing? Here is the same picture frame, customized three different ways! This is a fun and relatively simple Father"s Day craft for kids. The options for this Father"s Day craft are endless and kids will love helping to make it just right for their dad because they can pick out all the details. You can even combine them if you"d like!

---

Every dad will love this father"s day coupon book. It"s customizable and printable and gives dad some of the best gifts he could receive on his special day. Pre-formatted coupons include coupons for "sleeping in", "taking out the trash", "yard work", "a big hug" and more! Use the ones we created or customize the Word Doc version to meet your needs - then color in the pages and sign from the kids.

---

Here is a Father"s Day Craft that is a great alternative to the standard frame and that will make a great gift for Father"s Day! Your kids can personalize this cute fish with their favorite colors, sayings, or even use their fingerprints as decoration!

---

This personalized fish themed coupon box is a great Father"s Day craft for kids to make. This one makes a nice present for dad and he will enjoy cashing in the coupons the kids come up with like giving dad a big hug, taking out the trash, walking the dog or whatever else their dad would like.

---

This is a very easy Father"s Day craft for kids to make. The result is an ultra cute picture holder craft that any football loving father will love. Just a little styrofoam, some wire and a couple cute pictures are all you need to make this fun football picture holder that makes a great homemade father"s day gift.

---

This is based on the classic World"s Best Dad shirt concept, but when you put kids handprints on anything, it becomes an instant keepsake. This simple and fun fathers day craft is especially fun for small kids who love to get their hands in paint. This craft works with any amount of kids and any father will love to receive this as a fathers day gift from their kids.

---

Check out this football themed pen and pencil holder that makes fun fathers day gift. Fun for any dad that is a football fan, it will fit perfectly on his desk and will remind him of the child that made it for him!

---

Any dad that is a baseball fan will think this homemade pencil holder that looks like a baseball. This craft is a perfect one for kids to make for dad using an empty soup can, some felt and a little paint. This special gift is sure to be a hit for Father"s Day!

---

Score a hole in one with this fun craft for dad! This is a simple and fun father"s day craft that kids can make and give to dad as a present. Perfect for fathers that are into golf and simple to make from a few things around the house.

---

Make a special personalized mouse pad for Dad! Every dad can use a fun and special mouse pad made by his kids that will remind him of his loved ones while at the office. We did a couple different ones, but the possibilities are really endless for this simple and fun kids craft. A homemade mouse pad is the perfect gift for dad and is a great kids fathers day craft!

---

Make this homemade toolbox card craft as a gift for dad on Father"s Day. Kids of different ages can do this craft. Older children can cut out the tools from our template while parents or teachers can cut out the pieces for younger kids and let them glue the tools inside the toolbox. No matter what age the kids are - dad will love this homemade Father"s Day card!

---

Make dad a World"s Greatest Dad medal that he can wear. What dad doesn"t want to receive such a prestigious honor? And it"s most valuable when its homemade by his child - he"ll wear it with pride! This is a quick and easy father"s day craft that both the kids and dad will enjoy. All you need is a little paint, some ribbon and about 15 minutes.

---

This popsicle stick pencil holder is a new twist on an old classic craft. With stickers tailored to Dad"s favorite hobby, it"s a great Father"s Day preschool craft for kids to personalize just for their Daddy. While an adult is needed to use the hot glue gun to attach the sticks to the can, older children can do the remainder of the craft on their own and toddlers can help with the fun parts of painting the sticks and adding the stickers. This pencil holder craft is sure to look great on any dad"s desk and your kid"s will have fun making it too!

---

ผู้แสดงความคิดเห็น

Admin

วันที่ตอบ 2009-09-24 17:45:53&nbsp

IP

: 124.120.110.109





ความคิดเห็นที่ 8 (2140464)

ดีมากเลยค่ะ

ผู้แสดงความคิดเห็น

นางอัจฉิมา อ่อนน้อม (achimaon-at-hotmail-dot-com)

วันที่ตอบ 2010-12-29 13:23:30&nbsp

IP

: 118.172.156.204






Visitors : 685320